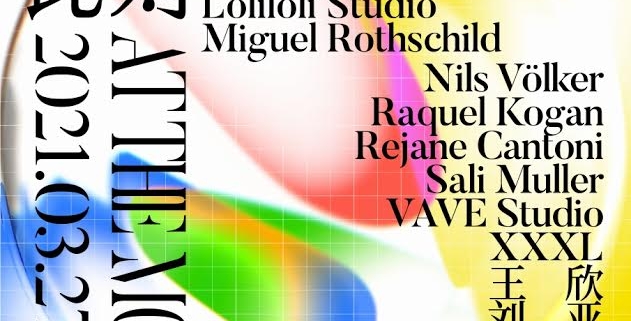 "WAVELENGTH: AT THE MOMENT" exhibition will be held from March 27th to June 14th, 2021 at Beijing Times Art Museum. After three successful collaborations between WAVELENGTH and Beijing Times Art Museum, from 2017 to 2020, the two parties once again join hands to bring a novel feast of art for all art lovers in Beijing. The exhibition gathers the works of 18 well-known local and foreign contemporary artists with different cultural and artistic backgrounds, presenting the "new spacetime of contemporary art" to the audience, and creating an unprecedented exhibition experience.
The exhibition takes the "tenses" of art as the main theme, categorizing the artists' works in the form of different "tenses" to create a "temporal" landscape of said distinctions. All installations are divided into 4 particular "tense" areas: "Past Future Tense", "Present Continuous Tense", "General Present Tense" and "Future Continuous Tense". 18 contemporary artists from different cultural and academic backgrounds utilize their unique life and artistic practice experiences to elaborate each's logical concepts and perceptions of "time" and "space" into multimedia pieces. In these installations, the audience is presented with a perspective of Space-time that breaks the norm through varied temporal divisions. At the moment of viewing, the audience can feel the concepts of time, space, and tenses preserved in the artworks colliding together, not only within their own minds, but also simultaneously floating around the entire exhibition space itself. Hereby, the pieces have become a special medium of feeling and exploring time and space. As a kind of "temporal" theater, the tenses of the artworks experimentally explore a new concept of social life, in the form of pieces themselves.
"WAVELENGTH: AT THE MOMENT" focuses on the time and space aspects hidden within contemporary art which are meant to evoke both the artistic perception and emotional connection of the audience. "Tense" is employed to describe the relationship between artistic works and viewers' behavior and feelings, transforming the exhibition scene into a rendezvous between different times, space, and realities. From this perspective, art has become a Space-time intermediary that connects the past, the present, and the future, allowing the audience to become "Space-time Travelers" shuttling between different exhibition scenes.
The artists participating in the exhibition are (in alphabetical order): Brody Albert, Charles Pétillon, Elise Morin, Grönlund-Nisunen, Ken+Julia Yonetani, Karina Smigla-Bobinski, Loliloli Studio, Miguel Rothschild, Nils Völker, Raquel Kogan, Rejane Cantoni, Sali Muller, VAVE Studio, XXXL, Xin Wang, Ya Liu, Yasuaki Onishi, Yuqi Wei.
https://virginielouvet.com/wp-content/uploads/sites/15/2021/03/0.jpg
893
631
Virginie Louvet
https://virginielouvet.com/wp-content/uploads/sites/15/2019/04/vl_logo_transparent_web1-dc31986.png
Virginie Louvet
2021-03-30 12:48:05
2021-03-30 12:55:02
YASUAKI ONISHI AT THE BEIJING TIMES ART MUSEUM